Sunshine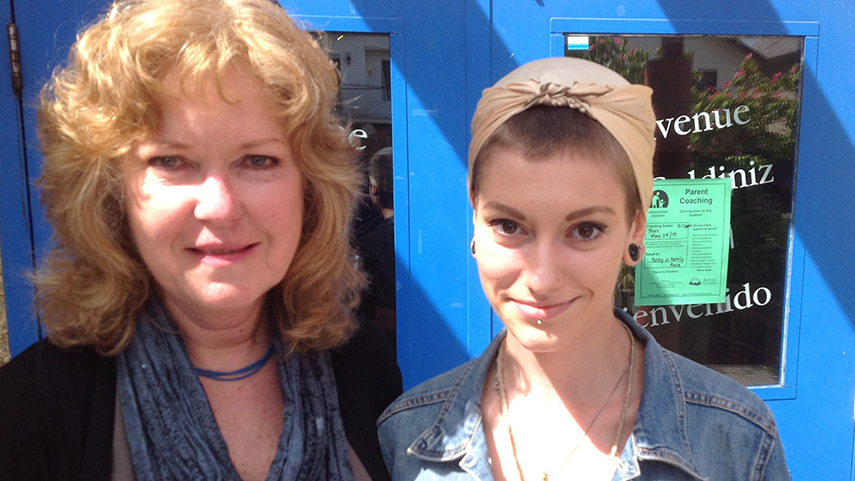 Sunshine Dickinson is graduating this year with the best marks ever and she couldn't have done so without the little urban one room school house that's Kiwassa Alternative Program.
Dickinson story is an inspiring one. The naturally gifted artistic student started off in Athena Arts program but struggled with severe depression and anxiety and in the Spring of her Grade 10 year, needed to be hospitalized. After spending two months in the hospital, she tried to get back into the loop, but found it difficult to balance some significant family challenges with her academic work. She decided to drop out.
Then Dickinson took a transformational trip to Salt Spring Island where she spent time with a childhood friend and re-evaluated her priorities.
"We reconnected and it was beautiful. We went hiking every day and I got a refreshing attitude on life," she says. "I had just turned 17."
Armed with this new positive attitude, Dickinson returned to Vancouver and began scouring the internet to research different alternative education options. She needed something flexible and community focused because at home she had become the sole breadwinner when her single mother had been forced to go onto disability due to severe epilepsy.
When she found Kiwassa she says she knew she'd found her new educational home. Kiwassa teacher Sandy Dowling says her program is unique because of its special community feel. "We are able to operate out of neighborhood setting like a one room school house. We are surrounded by little kids and seniors using computers," she says. "Peer pressure for our students just doesn't exist."
Over the next year, Dickinson would work with Dowling on her own individualized learning plan and explore areas that were of particular interest to her, namely social justice, animal welfare and cultural studies. Dickinson says that while the environment made a huge difference, at the end of the day it was her teacher that really made her educational experience stand out. "Sandy is the best teacher I ever had. I enjoyed that my work wasn't from text books," she says. "I had a lot of freedom with what I wrote about. I found that very encouraging and validating as a student and as a learner."
As a result of her hard work, Dickinson has now charted a course to Langara. She's enrolled in a philosophy program which is being funded by $4,006 grant from the STAND Foundation. "I want to say how grateful I am that someone is willing to invest and recognize my potential," she said when asked if she had a message for STAND donors.