http://www.vancouversun.com/health/Journeyfromdropoutstraightstudentmatterselfbelief/9325250/story.html
TRACY SHERLOCK, VANCOUVER SUN 12.27.2013
Thea Luchak struggled during high school but her outlook has improved after entering an alternative education program, and is now studying 3D modelling for animation at the Art Institute.
JASON PAYNE / VANCOUVER SUN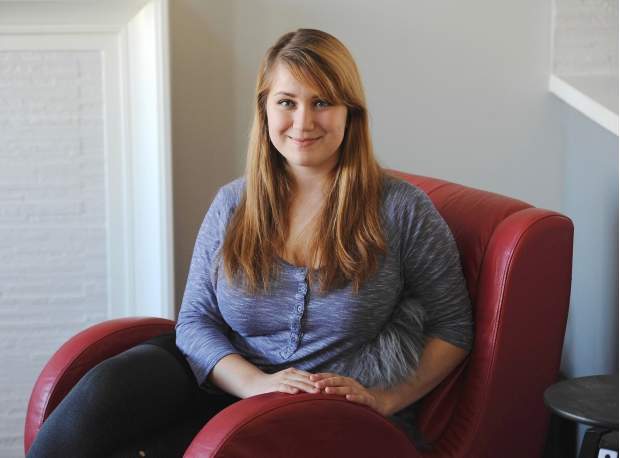 Partway through Grade 8, on the occasional days Thea Luchak attended school, she spent her breaks sitting in a bathroom stall waiting for the bell to ring. Most days she didn't go at all, telling her mother she was sick or had a headache.
Luchak had severe social anxiety, and although she had a few friends from elementary school when she started Grade 8, partway through the year they disappeared. She was so anxious she sometimes had panic attacks or would cry, but always when she was alone.
Her grades dropped and eventually she stopped attending altogether. When Grade 9 started, she knew she couldn't go back to the regular school system. She says that was one of the best decisions of her life because she was then sent to an alternative school, the West Program.
At first, she was nervous. She says she became selectively mute and stopped speaking almost entirely at school.
"It was very difficult to talk," she said in an interview.
She engrossed herself in books — sometimes reading for four hours a day, every day. By the end of the year, she had read about 45 books, which was nearly every book in the school. "I even read Origin of Species because I was bored," Luchak said.
Ultimately, it was the books that brought her out of herself.
"I started reading philosophy books and I realized that if I wanted to stop being so anxious or not doing well at school, that it was my responsibility to fix that," she said.
Soon, she started drawing — something she had always enjoyed but had never focused on. The other students started noticing her artwork and complimenting her on it.
"It made me nervous to have people looking at my work, but it also felt good," Thea said. "I started to gain a bit more confidence."
By the end of Grade 10 she had straight As, was taking art classes at the nearby Spectrum program for senior students, and decided to take a summer school course. For Grade 11 and 12, which she finished early, at age 16, she attended Spectrum full-time.
"The staff there … really helped me get past my anxiety," Luchak said. "Miraculously, I could actually hold a conversation without having a complete meltdown. The kids there were nice to me too, which is a situation I'm not too familiar with."
Spectrum is for students who are at risk of not graduating, due to social, emotional and economical challenges, said Fran Alley, the program's head teacher. The school offers more classes than most programs per semester, which means students can graduate sooner, and with a full Dogwood diploma.
"We look after the kids physically, emotionally and cognitively. We have youth and family workers on site," Alley said. "We feed the kids — that's very important. The kids cook the meals here for the entire student body — we have lunch and there is a self-serve breakfast available."
The class sizes are smaller, with just 12 to 24 students in each class. Students apply to get into the program and are often referred by counsellors or youth and family workers.
"We have children who come in and they've been out of school for a year, but they know they really need an education," Alley said. "We've got a few kids who are living on youth agreements or in ministry care, we've got kids couch surfing and transient kids."
While Luchak wasn't facing those dire circumstances, she was facing some pretty serious personal challenges. She credits Spectrum and West with helping her rein in her anxiety disorder, become more independent and improve her work ethic.
Alley called Luchak an "incredibly talented and intelligent young woman."
"She is such a brilliant child that it was easy for us to give her wings to fly and explore all sorts of things, like philosophy and English courses. She just loves knowledge and is very astute and insightful," Alley said. "For somebody who came from such isolation, she has really become a lovely, well-rounded individual."
Luchak said seeing her grades and getting honour role certificates gave her a sense of pride, an emotion she had rarely experienced.
"I had never believed myself to be a smart kid," Luchak wrote in a grant application essay. "I would get yelled at for being distracted in class, would never understand what was happening in my math classes. I was berated for not being able to understand certain subjects and, as a result, I believed that I was stupid.
"All it took was respectful, thoughtful teachers who knew what they were doing to show me what potential I had and to give me confidence."
Luchak now attends the Art Institute, studying 3D modelling for animation. The 17-year-old says it's going well and that she has made friends.
She earned a grant from the STAND Foundation, a Vancouver organization that targets their scholarships to students in alternative programs.
Luchak said in her application essay that she wouldn't change the challenges she has faced.
"Despite how bad a problem may seem, I now know that I will be able to not only overcome it, but will be greater for having gone through it," she said.
tsherlock@vancouversun.com